"Raising Children: A Parent's Guide"
This is the way for people to learn how to become better parents and all they have to do is settle down with one good parenting book.
Dear Parent,
Are you unsure about how to interact with your child?
Are you worried you are not a good parent?
Are you confused about the appropriate reaction to misbehavior?
Do you constantly feel disorganized?
Are you tired of feeling like your child is the parent?
Or, are you concerned about educating your child?
Are you wondering about how to encourage your child to express himself or herself? Do you know how to socialize with your child?
Is your child trying to assert his or her own independence?
No matter what uncertainties you have,
no matter what questions you have,
this is the book for you!
If you are ready to become the best parent,
then you need to read this book right now.
It is the easiest and fastest way to get on the right track with your children.
You will learn all the basics of good parenting:
The benefits of early childhood education
The appropriate social life for a child
How to dress your children
How to teach your child through stories and song
Letting your child express his or herself
Good parenting advice does not just apply to stay-at-home mothers or even upper-class families. Being a good parent is possible no matter who you are.
If you are a single parent, you can do it. If you have a spouse, you can do it.
If you and your spouse both work long hours during the day, you can do it.
If you think you do not have time to be a good parent, you are wrong. If you think you did not have good parents and that means you cannot be a good parent, you are wrong. If you think you are in over your head, you are wrong.
This book will teach you how to become a great parent in no time at all.
So how do you become a good parent?
Well, in "Raising Children: A Parent's Guide," you will learn how to begin a new and amazing relationship with your child.
The best part is that I am here with you every step of the way, making sure you are getting the best parenting information available. I will even help you build a close relationship with your child, one that will last a lifetime.
This parenting book book will give you…
Information about becoming a parent

Ideas for fun and games to help your child learn

The 5 most important parenting skills

Helping your child dress for success

Tips on how to decorate your child's room

A close and beneficial bond between you and your child



There is more!
Of course that is not all! I will tell you how to:
Give your child a healthy sense of ownership
Help your child organize his or her bedroom
Tips on how to help your child make friends
Keep your child safe at social events
Pack a baby bag with all the essentials
Keep a positive outlook
And most importantly, how to have fun!
Even seasoned parents need to know about this ebook. It is easy to get lazy or fall into unhealthy parenting habits. Life is full of distractions: debt, career, chores, and even exhaustion or fear. But, with this book, you can begin fresh. You will learn the best parenting skills. You will be a better parent.
Get this book and analyze your parenting skills. It is easy to overlook aspects of your child's life that can affect the rest of his or her life.
I explain everything. I will even tell you how to:
Communicate with your children
Remain positive during conflict
Host a child's birthday party
Listen to children of all ages
Help your child relate to other children his or her age
Deal with hand-me-downs
And SO MUCH MORE!
Even if you are exhausted by the responsibility of working and raising a family, this book will inspire you to become a better parent. It will make you feel like you did when you discovered you were pregnant: excited and eager. Do not wait. Regain your enthusiasm for your children, yourself and your entire family.
There is so much parenting information available in this 54 pages ebook, that I cannot list it all for you right here. What I can do, is promise that you will not be disappointed. New parents will have what they need to embrace good parenting habits and long-time parents will remember all the good things about raising children and pick up some new ideas while they are at it.
Get it now!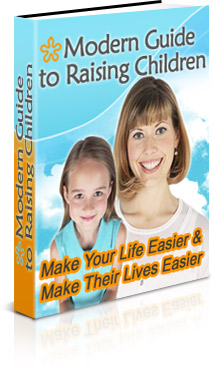 Table Of Contents

Introduction: WELCOME TO THE WORLD OF PARENTING
IT ALL BEGINS WITH PATIENCE: 5 SKILLS NEEDED TO BECOME A SUCCESSFUL PARENT
#1 - PATIENCE
#2 - DISCIPLINE
#3 - LISTENING
#4 - COMMUNICATION
#5 - EDUCATION.

PART 1 : HOW EARLY CHILDHOOD EDUCATION CAN SHAPE A CHILD'S WORLD
Getting your child involved in their world
Sharing
Making Friends
Imaginative Play
Time for school
Finding Acceptance
Dealing with Rejection
Coping
Social Interaction
Preserving Your Child's Individuality

PART 2 : TEACHING YOUR CHILD THROUGH STORIES AND SONG STORIES
Cognitive Skills
Communication Skills
Individuality
Teaching Values and Morals
Life Lessons
Make Learning Fun
SONG
Individuality
Appreciating music
Recognize rhythm
Singing and movement
Connection with Society
Improved listening skills
Emotions
SONG AS STORY
USING SONG TO LEARN
SONG AS MEDIATION

PART 3 : YOUR CHILD'S SOCIAL LIFE FROM BIRTHDAY PARTIES TO THEIR FIRST SCHOOL DANCE
ENCOURAGING POSITIVE SOCIAL INTERACTION
Establishing Boundaries
Choosing activities
Staying Positive
Being a Chauffeur
HOSTING YOUR CHILD'S BIRTHDAY PARTY
Guest list
Invitations
Supplies
RSVP
Recruiting help
Party Games
Clean-up
WHEN YOUR CHILD'S FRIENDS STAY THE NIGHT SCHOOL DANCES
Popularity
Clothing
Safety
TYPES OF LISTENING FOR DIFFERENT AGES


PART 4 : CHILDREN'S CLOTHING ADVICE FOR PARENTS
CLOTHING AND OTHER ESSENTIAL ITEMS FOR ALL AGES
Baby Bag Essentials
Toddlers
Children
Teenagers.
WHY SOME CHILDREN DO NOT WANT TO WEAR CLOTHING
HELPING CHILDREN GET DRESSED
SHOPPING WITH YOUR CHILDREN
KID FRIENDLY CLOTHING
DRESSING YOUR CHILD FOR A SPECIAL OCCASION
Pictures
Weddings
Holidays
HOW TO USE HAND-ME-DOWNS
WHAT TO DO WITH UNWANTED CLOTHING GIFTS
WHAT TO DO WITH BABY CLOTHES
GIVING YOUR CHILDREN OWNERSHIP



PART5 : LETTING YOUR CHILD EXPRESS THEMSELVES THROUGH ROOM DECORATION
IMPORTANCE OF GETTING CHILDREN INVOLVED
FIGURING OUT YOUR CHILD'S STYLE
Pictures
Visiting a friend's room
Department stores
HOW CHILDREN CAN HELP
Cleaning
Painting
Accessories
Arranging the furniture
HOW TO COMPROMISE: WHEN TWO CHILDREN SHARE ONE ROOM
ORGANIZATIONAL TIPS
Shelving
Storage Containers
Closets
SAVING MONEY
PLANNING FOR THE FUTURE
Furniture
Storage
Accessories

Here is an excerpt of the book

"Social interaction begins when children are as young as three months old. Infants will meet relatives, family friends, and strangers. They will begin to recognize the faces of their parents and others that they see on a daily basis. As your child grows, they will enter different stages of social interaction. The most critical time for many children is the time between preschool and kindergarten. Many experts believe that children learn core survival skills that will be needed in the years to come. These survival skills include:

Imaginative play
Sharing
Finding acceptance
Dealing with rejection
Coping
Making friends

Imaginative Play

Imaginative play occurs when your child is playing with toys, a cardboard box, or any other safe object. Your child's imagination is the most powerful tool they have when it comes to inventing alternate worlds and fun places. Children as young as two will begin to imagine an object as something else. As the years pass, your child will invent more elaborate scenarios that they may take from real life. Many children dream of being firemen or chefs. They will create a world where they are able to perform the duties of a fireman and put out huge fires..."


The best part about this eBook is that you can download it immediately! There is no waiting for it to arrive in the mail. You can be reading all the amazing information in this book in JUST A FEW MOMENTS!

Sincerely,

Christine Gray

The Joys of Parenthood

YES,
Give Me The Ultimate "Parenting" Package Now!
I Want To Download This Immediately
Before The Price Goes Up Anytime Now!




I understand I will be downloading this ENTIRE Step by Step Guide for a tiny one-time payment of jus

t

$97.00 $37 when I act now!

This is my own...

"Modern Guide to Raising Children
Make Your Life Easier &
Make Their Life Easier"

Step-by-step guide and it includes
"Everything You Always Wanted To Know
About Raising Children"

I can get started now and start applying these great advice in minutes from now when I apply what I learned.

On that basis, let me start now before it's too late!

I Get All This For A Tiny One-Time Investment Of Just
$97 $67 $47 $37!

But Wait...
.

FREE
BONUS
VALUED AT
$1,000

Offer Expires:
11:59 pm tonight

Order now and you will receive $186.90
$1,000 in amazing bonuses absolutely


FREE!


You would normally have to pay $1,000
for these.
If you order now I will include


ALL 20 Bonuses


at no charge!


Bonus 1: Parental Control - How to Check Your Kids

Bonus 2: How to Take Care of Your Baby's Health

Bonus 3: How to Have a Successful Baby Shower

Bonus 4: Understanding and Treating Baby Colic

Bonus 5: Understanding Pregnancy

Bonus 6: Single Parenting - Becoming the Best Parent for Your Child

Bonus 7: Family Budget Demystified

Bonus 8: How to Successfully Homeschool Your Child

Bonus 9: Understanding Daycare Inside Out

Bonus 10: Understanding Scholarships

Bonus 11: Adoption Made Easy

Bonus 12: How To Lose The Weight Now

Bonus 13: Online Education

Bonus 14: Backyard Frolicking With Your Kids

Bonus 15: How TO Uncover Your Genealogy

Bonus 16: Insomnia Made Easy

Bonus 17: Anti Aging & Skincare Made Easy

Bonus 18: Understanding ADHD

Bonus 19: The Kids Are Driving Me Crazy

Bonus 20: Balance Your Life

(Click here to view all the bonuses you will receive)

>>Click Below For Instant Download
of
ALL 21 Parenting Guides
!<<
Hit

"Click Here To Order Now!"

to order via credit card
on our secure web site
Now Only $97 $37!
For ALL 21 ebooks

YOU WILL RECEIVE INSTANT ACCESS
TO ALL THE PRODUCTS AND SITES
(Even if it's 2:00 AM in the Morning)


Remember, This Offer Will Only Be Made Available To A Select Few That
Act Quickly Before This Offer Is Completely Gone Forever...
(I reserve the right to end this discount at anytime without warning.)

Still not convinced?
Download Your Special Parenting Newsletter,
It's FREE!